---
inspiring. dynamic. engaging. profound.
---
Do you know how great you are? Think about it, you possess something that no one else ever has or ever will. Isn't that amazing to consider? And when you inspire greatness in others, your life transcends time. For we are history-makers and our lives write stories for others to read and learn from. 
Each of us must ask our self, "How am I using my unique gifts to benefit, encourage, and equip others? What legacy will I leave for my family? What greatness will I inspire in others that will help them shape a better history themselves?" 
The pages of this book are an homage to every person that has touched my life for the better. The book also incorporates a workbook and journal to help unmask your own greatness and blueprint for building a rich legacy that inspires the lives of others. 
I invite you to unite with me in this journey of history-making. Let's change the world, one act of greatness at a time.
"This book is a must-read for every person, regardless of age. It is inspiring, sentimental, and perfect for individual reading or group or family discussion. Thank you – I was encouraged to live bolder and more purposefully." (E. King)
---
"I loved this book. It is a quick, easy read that has a message in each story. I can see myself in almost all of the character's experiences. This book was able to feed my soul in my own fight to love and understand where I am going and what I should be focused on. I can't wait for the next book. I loved it, loved it, loved it. A book well-written!" (D. Thomas)
---
REVELATIONS FROM GOD: 15 Stories of Godly Wisdom for Everyday Living
"There is so much insight and wisdom in this book. With warm stories and reminders of God's love, it was my go-to nighttime read. I ended up buying this book for everyone in my family. You need to read this!" (V. Jones)
---
THE 10 COMMANDMENTS OF CAREER SUCCESS: How the Have the Career You Really Desire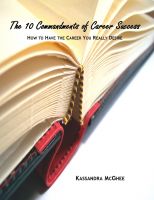 "Even as a seasoned professional in my field, I found this book very helpful. I shared it with my son in college and colleagues who all said it was perfect for them. I recommend anyone regardless of where they are in their career to buy this book. You won't be disappointed." (E. MacRath)
© 2002 Kassandra McGhee